Honda Pilot Buy Lease Offers in Gonzales, LA
See participating dealers for details.
Honda Pilot for Sale, Lease in Gonzales, LA
When you need plenty of space for passengers and cargo, a three-row SUV like the Honda Pilot is one of the best choices you can make. The Pilot is incredibly spacious, with generous room for your crew and all of their bags. With a high-tech infotainment system in the front and an available built-in entertainment system in the rear, the Pilot can make every car ride fun and entertaining for everyone on board. You can rest assured that your family will stay safe with the Pilot's extensive list of safety equipment. From top to bottom, the Pilot is built to meet all of your family's transportation needs.
Though the Pilot has plenty of impressive features on paper, the best way to get to know this incredible SUV is to come see it for yourself at Ascension Honda. We have a fantastic selection of Pilot vehicles for Gonzales families to choose from, and we're sure that you'll find the Pilot model that's right for you. When you're with us at the dealership, you can test out the features, get a feel for how it drives, and see for yourself why this versatile, three-row crossover is such a hot pick for drivers around Gonzales.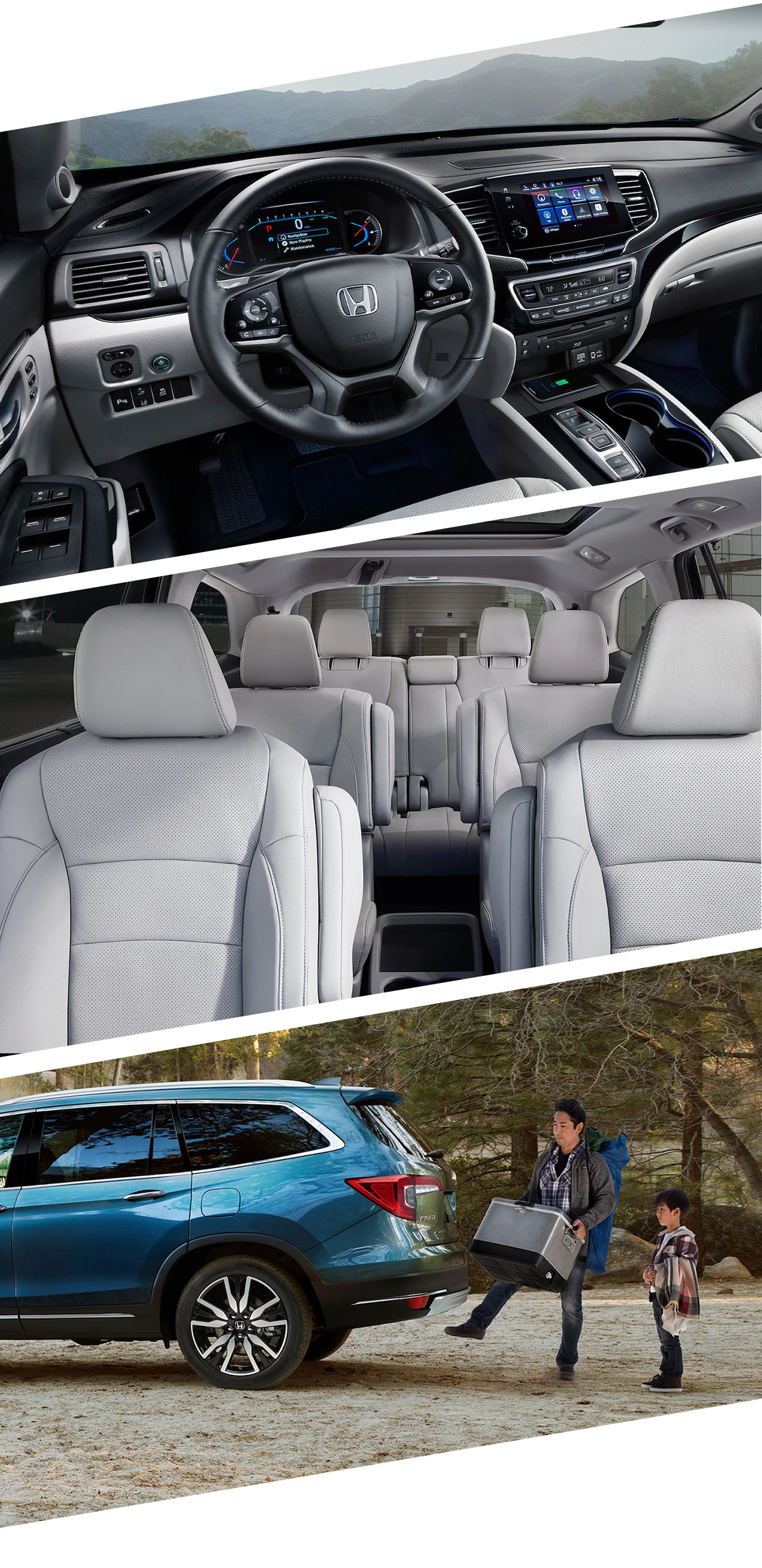 What's New in the 2022 Honda Pilot?
2022 saw many changes to the current-generation Honda Pilot. The LX and EX models from prior years are no longer available for the 2022 Pilot. The EX-L is now the base model, which makes more features standard. The 8-inch touchscreen infotainment system is now standard in every Pilot model, whereas before, base models only came with a radio. Now, each 2022 Honda Pilot comes with Apple CarPlay, Android Auto, SiriusXM satellite radio, and voice control. Bright LED headlamps and more safety technology features are also standard, making the 2022 Honda Pilot better for driving than ever. The 2022 model also has a new color: Sonic Pearl Gray. Though it is not time for an entirely new Honda Pilot, many updates this year make this model the most refined Pilot to date.
Honda Pilot History Highlights
The Honda Pilot debuted in North America in 2003 when drivers were increasingly interested in the SUV for family transportation. Families had been trusting the Honda name and lineup for decades by the time the Pilot was introduced, helping the Pilot become an instant success. The Pilot has seen many facelifts, refreshes, and generations since it was first introduced to ensure that the SUV stays relevant in an ever changing automotive landscape. The current generation of the Pilot is the most equipped yet, a trend that is sure to continue with every future iteration of the capable, spacious, family-friendly Honda Pilot.
Buy or Lease a Pilot from Ascension Honda in Gonzales, LA
At Ascension Honda, we want to ensure that you have a stress-free shopping experience from start to finish. It's why we have an easy to navigate website with all of our current inventory and some of the friendliest, most helpful team members around at our dealership. Whether you're shopping with us online or in-person, you'll feel respected and supported from start to finish.
You can check out our current Honda Pilot models as well as all of our other Honda vehicles online or with us at the dealership. Shop with us at Ascension Honda today to get a great deal on your new Honda Pilot in Gonzales, LA.