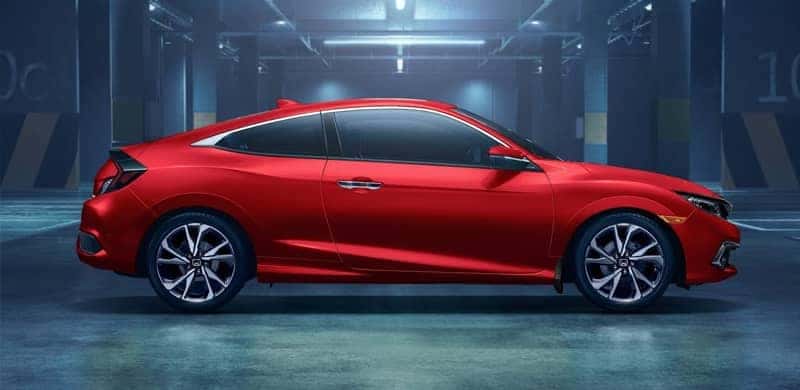 Pre-Owned Vehicles
Take a look at our wide range of pre-owned vehicles and find the one that is right for you.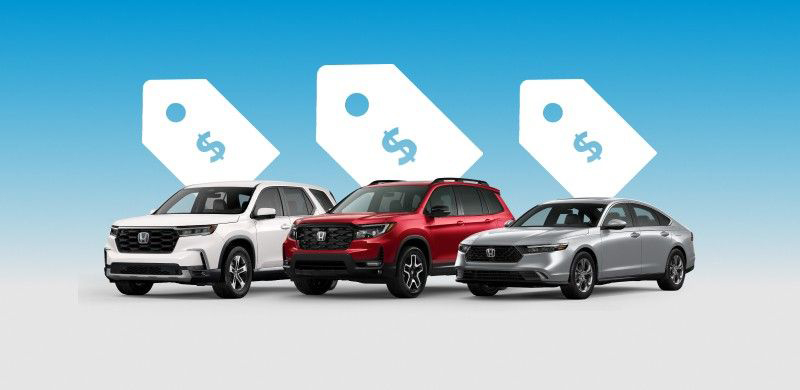 Current Offers
See this month's featured current offers going on now on new Honda vehicles.
Our Reviews
Bryce was great! Showed us a good variety of cars and made the process really easy. Lots of great cars here, super friendly staff. Great!
I had a great experience with Mason Bennett. He was very nice and it made my experience all that much better.
Mike Reine was amazing to work with. Very pleasant and attentive and made it happen. Go see this guy and let him help you buy a car.
Mike Rein was the best! Great people to work with. Will definitely come back again.
They were very efficient, got back with us promptly, & were very helpful with our purchase!
I had a very good experience working with Mike Reine to purchase a beautiful nearly new Honda CRV. His patience and knowledge of the car, especially the extensive new safety/entertainment features that were new to me, was extremely helpful. After the sale he took the time to help program the car to my specific preferences. The car was impeccably detailed with a clear history and service record provided. At no time during the process of shopping for the right car, test driving or purchasing did I feel pressured or rushed in any way. All transactions were professional, transparent and considerate. It was certainly worth the drive from New Orleans to buy from Mike at Ascension Honda.
AC is the best salesman…hands down!!🙂 You will not be disappointed and he goes above and beyond to ensure you are a satisfied customer!!:)
Ascension Honda is the BEST And The Salesman Tori Is Awesome He's Real Friendly And Consistent He Works Hard to Help U Get What U Are lookin For And He's Just Amazon He Helped Me Get My Honda Civic Last Year
The customer service that I received was the best. The staff were friendly and very helpful, especially Corey. He was also knowledgeable and didn't mind assisting as well as addressing my questions/concerns. Based on that, I will definitely refer my family and friends.
My experience purchasing a vehicle from Ascension Honda was outstanding and comfortable. I didn't feel forced into buying a car. The Financial Manager Corey Plummer was very informative and trustworthy. I highly recommend this dealership.
I had a wonderful experience working with Salesman Corey Plummer in my search for a vehicle for my daughter. Mr. Plummer was extremely knowledgeable and very professional. The experience was truly stress free which helped me in my search for the vehicle of my choice.
A great experience! It was a pleasure to have purchased my vehicle from Ascension Honda. The Finance Manager, Corey was very knowledgeable and pleasant. He made my buying process comfortable. He made my time spent feel like we were family. My trip was worthwhile!
Ascension Honda was recommended to me by a friend and my trip was worth the drive. Wonderful customer service with the Finance Manager, Corey Plummer. He was very knowledgeable, patient, kind and a pleasure to work with. He made my car purchasing a pleasurable experience.
Ray Jack, my #1 go to guy💪if you in the area go check him out! He made it an easy process, and is always polite. #TeamHonda Wouldn't have it any other way!💙
Best Dealership in the South! Wow what service! Ill be commimg back for more soon.
IT WAS GREAT WORKING WITH WES. VERY POLITE AND UNDERSTANDING. HE WILL ALWAYS BE OUR GO TO GUY FOR CARS
Was very well pleased to get my daughter WhT she wanted, enjoyed the visit enjoyed the service & popcorn lol . If your looking to seal the deal visit this location is your go to but fortunately I sealed the deal w the help of salesperson Soul Bell !
I recently purchased a vehicle at Ascension Honda. Mike Peterson was my salesman. He was delightful. So genuine & eager to put us in the right vehicle. We found one that seemed perfect, bought it & the next day, it broke down on the interstate! Waited on the side of the road for hours. Went back to Mike to yell at him. LOL He greeted me with such apologetic eyes & comments that I accepted his apology. We got down to business & he found me the best car that fit our budget. We ended up with a great car, a great deal & a great friend. We will be going back when we are ready for our next vehicle. I highly recommend Mike. He has a kind & genuine heart. Ms Page Cavalier was very incidental in the process also. She went beyond her duties to help Mike with finding the right vehicle 🚑. I want to mention the management also who also went out of their way to make this happen. Travis was the one behind the scene, coaching the bases. Thumbs up from up the river in Baton Rouge! Good job YAWL. Deda & Kevin P.S. Also regards to "Capital One Auto Navigator" who led me to this outstanding Dealership.
The guys here at Ascension Honda are great. Randall who was taking care of me in the beginning was patient and no pressure. He put me in the truck for a test drive and answered all my questions. Leonard was the sales manager who took over to close the deal. He was quite patient with helping me get the monthly note we needed. The entire team here was solid on helping me get the win I needed.
My sales rep was very friendly and worked hard to find us the vehicle we wanted. His name is Kelton Bates. Thanks for all your help.
Mr.El Williams is the best salesman I have ever dealt with he was very patient with me and my daughter on purchasing her a brand new 2022 Honda Accord he made us feel so welcome and he took his time to make sure we were very satisfied. We are definitely coming back to Ascension Honda
Excellent!!!!! If I had any questions or any doubts ray was there 100%of the way assuring me that everything would work out and he did!!!!
My Salesman Soul was very helpful and took good care of me during my purchase. Great salesman not pushy and down to earth. Great guy
Kelton was very easy to deal with! I'm pleased! Very friendly and honest with me. I would definitely recommend to the next person with no second thought.
Mr.El Williams was very helpful and show me how the car operate also brought me to test drive it and was very polite and and answering all the questions that we needed management the financial everybody was great thank you and I will recommend my friends to y'all

Welcome to Ascension Honda
New and Pre-Owned Vehicles for Sale in Gonzales, LA
Beginning the process of finding your next vehicle can be overwhelming. There are so many dealership, manufacturer, and model choices that lie ahead of you. That's why we invite you to visit Ascension Honda, where all of those choices are made easier. You have specific needs for your ride, and that's why our team will sit down with you and find out what those are in order to match you with the best fit. Whether that's a new Insight, Civic, or Pilot. We have them all and more at our dealership in Gonzales!
Read More...
Get Directions To Ascension Honda